Convention Staff
Satellite 4 couldn't exist without the help of our most excellent staff.
Clare Boothby & Duncan MacGregor — Neo Mum & Dad

Clare's bio to follow...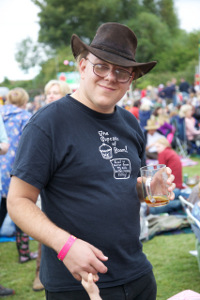 Duncan's first convention was the Worldcon in Glasgow in 1995 where he somehow ended up volunteering to help set up parts of the convention, a situation he'd like to ensure others don't go into blind.
Since then he has been on the committee of two convention, helped out at many more, experienced the worst thing that can happen at one, and can tell you how to survive it.
Outside of fandom Duncan works as a software developer making software to make maps with, a subject best avoided unless you're really interested.
Robbie Bourget & John Harold — Art Show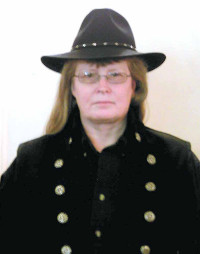 Robbie Bourget, Canadian fan who started working conventions in operations, moved to treasury, and ended up Chairing a few things. Has been doing Art Show for Eastercons since shortly after her arrival in the UK in 1999.

John's bio to follow...
Mary Burns — Registration

Mary's first convention was NyCon3 in 1967 (the 25th Worldcon, held in New York City), where she did not meet her future husband, although he was also at the con. Three years later, at the Heidelberg Worldcon in August 1970, she did meet Bill and they became engaged. In April 1971 she visited England to meet Bill's friends and family and (not coincidentally) also attended her first Eastercon; she has not missed an Eastercon since. Later that year Bill moved to New York, becoming almost certainly the first and only Transatlantic Treasurer for an Eastercon (Chester in 1972), and also Mary's husband.
Mary has been a volunteer at almost every Eastercon, the only recent exception being Bradford in 2009, when she and Bill were Fan Guests of Honour - and even there she tried! For many of the pre-internet Eastercons she served as American agent, and over the years she has run the art show and registration on many occasions (but not at the same time). This year will be her 44th consecutive Eastercon.
Eddie Cochrane — Programme Ops

Eddie's bio to follow...
John Coxon — Newsletter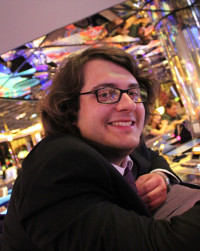 John Coxon attended his first Eastercon, Contemplation, in 2007 and he enjoyed it enough to keep coming. He ran the newsletter at LX two years later, and nobody seemed appalled. Everyone agreed that the font he used was awesome. John is also responsible for producing Loncon 3's progress reports, and has helped with multiple Eastercon newsletters between the duties of TAFF administration. He's celebrating the end of his TAFF tenure by editing another newsletter. And by being in the bar.
Serena Culfeather & John Wilson — At-Con Guest Liaison

Serena's bio to follow...

John's bio to follow...
Sha Dennett — Brewery Liaison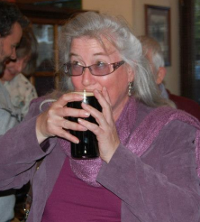 Having met a Munchkin in 2001, Sha's first convention experience was Sproutlore's Damn Fine Con. The subsequent Eastercons, 'They Came and Shaved us' and the Redemption conventions were to drag her into the fold.
In the real world, after Uni, She was a Brewer with the Firkin pub chain, then spent several years in finance and admin for various social work charities. She is very happy to be working back in the Brewing industry at Kelburn.
Sha can usually be found at conventions chatting and knitting in the bar, hopefully with a pint of real ale to hand.
Sue Edwards — Green Room

Sue's bio to follow...
Al Johnston & Steve Rogerson — Photographers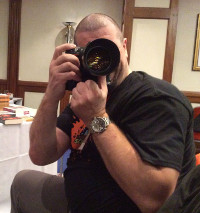 Al has been found mostly at Novacons for over half of them now, mostly driving a van, so not having one this time may cause him to look a little confused. Not that you'll be able to tell as he usually hides behind a big camera.

Steve's bio to follow...
Pat McMurray — Ops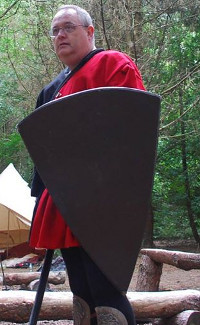 Pat first went to conventions in 1993 and has been involved in fandom ever since. He's done a bit of this and a bit of that - five committees, GUFF winner, various staff roles. He seems to have found his natural home in Ops, the helpful place where helpful people will help you if you need it. You might say that he and his team are very helpful!
Morag O'Neill — Committee Scribe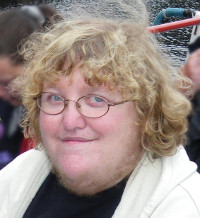 Morag's first convention was a day event featuring Babylon 5 and including Guest of Honour, Michael O'Hare, in Glasgow way back when. After that, her next trip into the heady realms of sci-fi cons was Satellite 1, followed by Satellite 2 and Satellite 3. She bravely decided to try out a different convention, went to Novacon 42 with Christine and Michael and was prevailed upon to become Scribe to the Satellite 4 Committee. Since then her life has become filled with reams of paper and she can regularly be seen muttering "where are my notes?".
In her other life, Morag works as a free-lance scientific/medical indexer and editor, producing work for such exciting journals as "The World Journal of Gastroenterology" and probably knows more than anyone ever might need to on weird and wonderful biomedical topics.
Simon Russell — Games Room

Simon's bio to follow...
Jamie Scott — Dealers' Room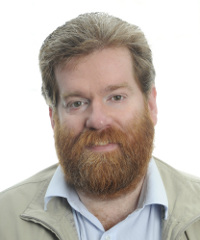 After his first experience of sitting in the audience at Albacon 98 watching John Salthouse dusting the chandeliers at the Central Hotel, Jamie started to get hooked into the whole convention thing. The slide into madness continued with committee jobs on Convivial, Confounding Tales!, Concussion (Eastercon 2006) and Satellite 1. He is generally found these days wielding a wrench in art show rooms, or in the bar.
In the other world he can be found swearing at computers at Glasgow University. Most other people also do this, but he gets paid for it. There are unconfirmed rumours he used to be a proper physicist in ancient times.
John Stewart & Martin Hoare — Tech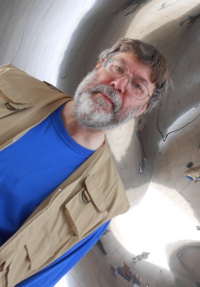 John has been attending conventions since 1978 (Skycon Eastercon) and involved at some level (from gopher to committee) since 1979 (Seacon 37th Worldcon Brighton).
He has been involved in a number of areas, including publications, filk, costuming, and the occasional firework display, but most of the time he's gravitated back to tech or tech-related activities.
In real life he spent thirty seven years in various areas of telecommunications.
(The full version of John's picture is too cool to not put up: here it is.)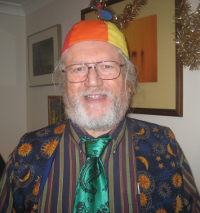 Martin's first convention was Novacon 3 in 1973. By 1977 he was on the Novacon committee.
His first Eastercon committee was Skycon in 1978 where he pioneered a computerised registration system He has been on seven Eastercon committees including Albacon and Albacon II. He chaired Helicon 2 in Jersey and with John Brunner, he co-chaired Seacon 84.
He has worked on a number of Worldcons starting with Seacon 79.
Providing tech to many conventions, he has survived the gore of Zombiecon and met up with many Old Time Fans at Corflu in Winchester as well as working on Novacon every year.
He is a keen traveller and has regularly attended foreign conventions since 1974.
In mundane life, he is a computer consultant. He also has a passion for recreational explosives and is professional pyrotechnist.
Zoe & Misha Sumra — Gopher Hole

Zoe's bio to follow...

Misha has been congoing for a decade, and conrunning since 2007. Personal highlights include heading up Gophers at Orbital 2008, being Super-Minion at Nine Worlds 2013, and getting married at Redemption 2011.