Alice and Steve Lawson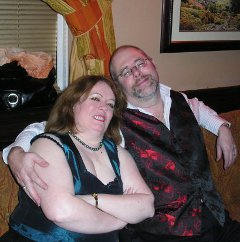 Alice and Steve Lawson are particularly appropriate Fan Guests of Honour for Satellite 4. Alice started her fannish career in Glasgow, her home city, and they'll be celebrating 25 years working together on conventions (and being married, too).
Many fans may not recognise the names – but their home on Myrtle Road in Sheffield is one of the most famous addresses in UK fandom. Memberships, hotel bookings and bills for convention after convention have been flooding through their letterbox since they were on their first Novacon committee back in the late 80s.
And you'll recognise their picture – chances are high you've bought a con membership from them, or picked up your badge and lanyard from one of their registration tables.
The half-century of work they've put in has resulted in one of the ultimate awards – the Doc Weir for Unsung Heroes of Fandom. Steve won it in 2006, and Alice in 2010.
They've served as committee members on over 30 conventions, but have also managed to have a lot of fun along the way. Alice directed several Eastercon Masquerades, Steve has been a regular player in Ian Sorensen's productions and Eve Harvey's radio plays. For years he had the only working buzzer system in British conrunning, and appeared on almost every quiz team going. An opportunity for costuming is rarely passed by: pirates, cavaliers, steampunk, Victoriana, biblical characters… They organise an annual fireworks party in Sheffield, and take an active role in the Sheffield SF Group.
Conventions
Both have chaired one Novacon, and usually manage memberships and finance. Steve is a semi-permanent committee member, Alice served from 2001 through to 2011 and is now taking a break to run a Worldcon.
Their first Eastercon committee roles were as memberships and hotel liaison for Illumination, Blackpool 1992.
Alice was on the original all-women founding committee for Intuition, Manchester 1998. Steve ran memberships and later hotel liaison.
They were part of the Paragon team – Alice chaired Paragon (1) in Hinckley in 2001, and was hotel liaison for Paragon 2, again in Hinckley in 2005. Steve took on memberships for both.
Steve also stepped up to the plate for Contemplation, the emergency Eastercon in Chester in 2007, handling memberships and registration.
Memberships and hotel liaison committee roles beckoned again for LX2009, in Bradford.
The Lawsons first met at Conspiracy, the Brighton Worldcon in 1987, where Alice was assisting Anne Page, the Masquerade Director.
For Intersection, the 1995 Glasgow Worldcon, Alice worked in finance and treasury.
By Interaction, the 2005 Glasgow Worldcon, Alice had reached the dizzy heights of Division Head of Staff and Membership Services, which included the role of Company Secretary. Steve joined the Membership team.
Alice is now Co-Chair of Loncon 3 (the next British Worldcon), and Steve is running memberships.