Notes for Dealers
Location of Room
The main dealer's room will be the the Argyll III room in the Crowne Plaza. Other tables will be located in the Argyll foyer annexe area and the conservatory, as shown below. Click on the image to download a higher resolution pdf.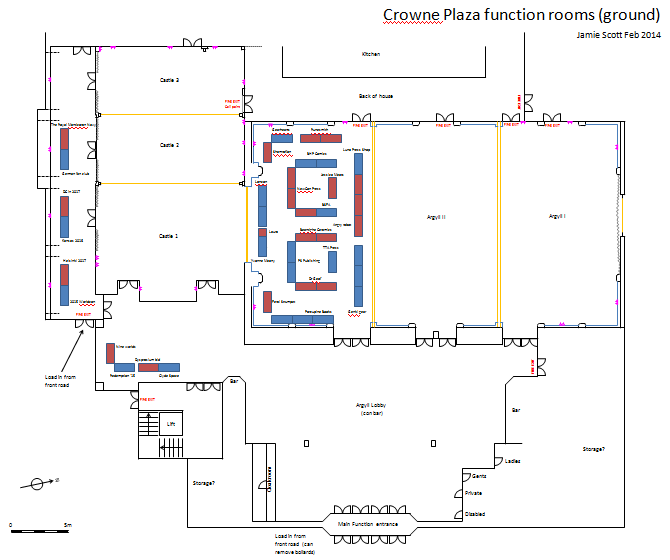 For reference, the general floor plans of the hotel are shown in this PDF.
Load in
We have access to the Dealers' Room from Thursday onwards. The room will either be open, or Jamie should be around to open it. For dealers with large amounts of stock there is a bay at the front of the hotel (before the hotel car park) by the function space area that can be used for loading, as shown by the arrow: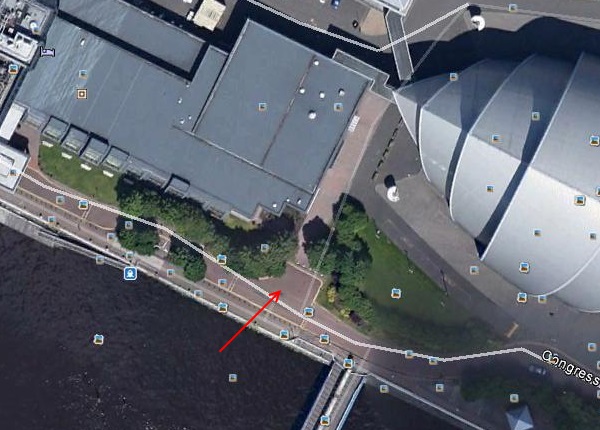 From here you can load in, either through the main entrance, or through the fire escape at the end of the conservatory, as shown: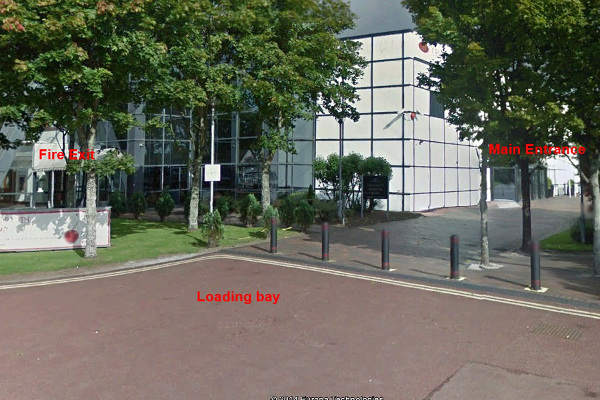 The main entrance doors should be open all the time, but the route from here to the room goes through the main bar area. The fire exit has to have the alarm switched off before it is opened, but gives a slightly shorter and probably less obstructed route to Argyll III. If you are coming in this way please let Jamie or a member of the con staff know that you want the door opened (although the canopy outside is also used as a smoker's refuge, so you may find it open anyway).
Room opening times
The dealer's room will be open for business:
| | |
| --- | --- |
| Friday | 1400 — 1800 |
| Saturday | 1000 — 1800 |
| Sunday | 1000 — 1800 |
| Monday | 1000 — 1500 |
Payment for tables
Payment will be collected at the convention – probably on the Friday or Saturday (but if you see Jamie before that and give him money, he won't object!)