Other Items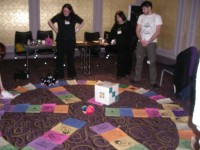 Sha and Psychochicken will be running a beer tasting, Morag and Catriona offer you the opportunity to sample scones, whilst Ming brings the delights(?) of military field rations from around the world.
There will be lots of games and quizzes to join in – compete for supremacy in Tig's Tribble Pursuit, test your knowledge in Mad Elf and Danae's Anime Quiz, or attempt to survive Munchkin's Spin the Pulsar. There will be a SF Music Quiz, Room 101 featuring some of our Guests of Honour and a variant on the old TV game show Mr and Mrs, entitled Entity and Entity.
The Satellite 4 debate has an eco-theme: This Convention believes that humankind should put its own house in order before moving off world. Is it important that we demonstrate sustainability here on Earth before venturing into space - or should we just trash the place and head on out there?
We'll also feature book launches, readings, a LARP, and a Fan Fund Auction. In fact, so much that it's hard to imagine where we're going to find time and space to put it all.
Perhaps we should borrow a TARDIS.