Panels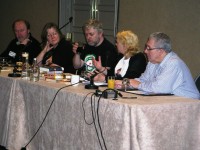 These will include serious discussions on different aspects of the genre, debate over topics concerning the status and future of fandom, and of course fun items.
On the literary side, we celebrate the work of our sadly missed Guest Emeritus (the late) Iain M Banks; consider politics in SF and fantasy; delve into the realm of alternative history, and take a look at early SF writing. There will of course be a Doctor Who panel! And also a discussion over the many film and TV incarnations of Sherlock Holmes. For the writers, we consider different types of writers' groups, good and bad practice in reviewing and editing, and what's involved in writing for different media.
Of course there will be science panels. We revisit the Drake Equation, try to convince the audience which was the most successful space mission ever, and wonder why our smartphones are not yet all that smart! We also consider the challenges facing women in science, and whether these are similar to those facing female authors of speculative fiction.
A selection of Grumpy Old Fem prove it's not just the men who think fandom ain't like it used to be, whilst experienced con-runners discuss the changes in fannish expectations over the years. We gaze into the chasm of the great British north-south divide, wondering about the future of Eastercon if Scotland becomes an independent nation or indeed even if the current trend continues for big conventions to be based in the London area. And of course we feature Satellite conventions' traditional all-apocrypha panel, this time focussing on how to manage your on-line presence.